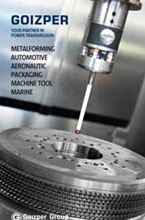 Goizper Industrial is one of the leading technology providers offering differential and global solutions in power transmission components (brakes, clutches, turning systems, cams, elevators, etc.).
Goizper designs, manufactures and markets customised power transmission components and solutions to meet different market needs in sectors and applications like metal forming, automotive, aeronautics, packaging, construction, marine, machine tools, etc.
More than 50 years working alongside customers, studying the market and investigating solutions allow GOIZPER to offer the greatest technological expertise, which is one of its distinctive strengths.
Constant research, innovation and a focus on quality are the basis of GOIZPERs strategy and what makes its range of products special.
Its reliable, customised design and its ability to adapt to the market have made Goizper one of the main benchmarks in countries such as Japan, the United States, Germany, Italy and France.
Having its own highly qualified production team is an important competitive advantage that gives great autonomy and flexibility.
The strong investment in machinery and manufacturing programs, the improvement and optimisation of its production line, ensure that Goizper equipment comes up to the quality customers expect.
Our aim is to grow with customers by offering them intelligent and global solutions for every need.
Given the importance of attending an ever more globalised market, Goizper has developed its own delegations and a large international distribution network to guarantee attention and a fast reply in any part of the world.