IK MULTI 1.5
Workshops
Construction
Automotive cleaning
Industry
Livestock farming
Cleaning kitchens

Industrial & Workshops
Seals and materials resistant to most acids and solvents.
Safety valve at 2.5 bar with depressurisation option.
Large filling mouth.
Ergonomic design.
Strong translucent tank with level indicator.
Protective sleeve for chamber valve.
Easy assembly and dismantling for maintenance, without tools.
Adjustable conic nozzle.
Possible adaptation to other types of nozzles and accessories.
Total capacity:

35 oz

LITRES/MIN. 3 BAR:

0,50 l/min. - 1 pint/min.

Gross weight:

0,60 Kg - 1,32 lbs.

Net weight:

0,46 Kg - 1,02 lbs.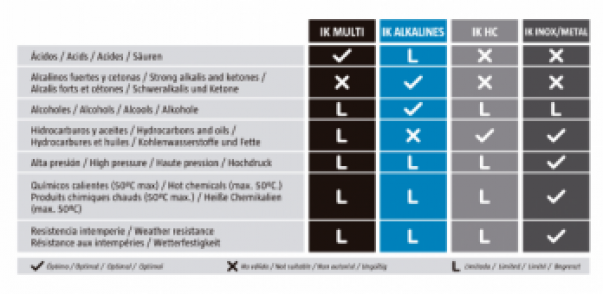 Logistical Information
Volume per unit (m3):

0,006 m3

Packaging dimensions:

16 x 16 x 27 cm.

Units m3:

150 u.

Code:

8.17.71