IK MULTI 6
Workshops
Construction
Automotive cleaning
Industry
Livestock farming
Cleaning kitchens

Industrial & Workshops
All plastic parts and washers resistant to most acids and solvents.

Safety valve at 3 bar with depressurisation option.
Strong translucent tank with level indicator.
Funnel incorporated into the tank.
Metal lever on trigger release valve.

Filter in the lance.
Base of tank can be used to wind the hose round it for storage .

50 cm extension lance available as an accessory.

Carrying handle and straps for carrying over shoulder.
Working capacity:

1 Gal

LITRES/MIN. 3 BAR:

0,50 l/min. - 1 pint/min.

Gross weight:

1,72 Kg - 3,78 lbs.

Net weight:

1,47 Kg - 3,23 lbs.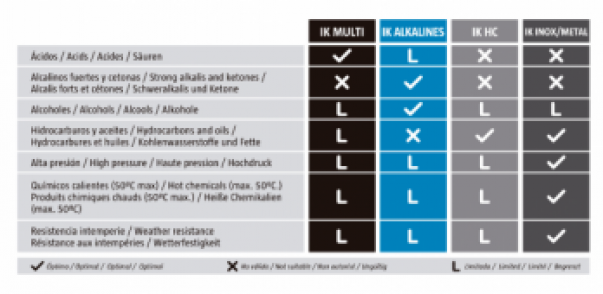 Logistical Information
Volume per unit (m3):

0,015 m3

Packaging dimensions:

18 x 18,5 x 46,5 cm.

Units m3:

58 u.

Code:

8.38.11.901