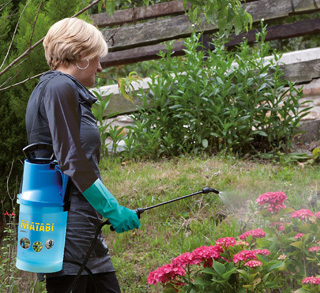 GOIZPER S. Coop. dates back to 1959 in the Basque town of Antzuola (Spain) in the largest European industrial cooperative movement. Goizper has grown significantly over these years and has become a Group structured around Industry, Spraying and Biotechnology.
Goizper Spraying is the Goizper Group business that focuses on the design, manufacture and marketing of manual sprayers and dusters for treatments in farming, gardening, industry, construction, cleaning, pest control and vector control, amongst other things.
Matabi and IK answering the specific needs of their market.
Our motto: "Your partner for accurate spraying", reflects over half a century's experience in the market and the high degree of specialization in making sprayers.
We are approved suppliers of world organizations such as the FAO, Unicef and the WHO and participate in the international committees commissioned to set the rules and standards for spraying equipment.
Given the importance of the Goizper Sprayer brands and their leadership role, our commercial structure now has 14 sales offices exclusive to Goizper in the five continents - 6 in Europe, 2 in Asia, 1 in Middle East, 2 in Africa and 3 in America – in addition to Area Managers in factory, and collaborators and numerous importers/distributors at destination.
A new state of the art warehouse and office (25.000 sq. ft.) located in Massachusetts since May 2016 provides a wide range of all types of sprayers.
Our extensive commercial structure ensures the best advantage for having a high degree of market awareness and allows us to offer professional and personalized attention according to the characteristics and needs of each country.
Our customers satisfaction is our main guarantee and what drives us to seek continuous improvement and research different designs, and technology.
GOIZPERs strategy over these years has mainly been based on:
Growth and International Expansion
Investment in R+D+i
Own Technology and Business Diversification