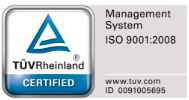 Goizper S.Coop. since 1995 has been ISO-9001 certified, guaranteeing the process and control of total quality from the conception of our products to its after-sales service. Goizper has a fleet of control machines that allow the quality to be tested and the results of the sprayers to be validated.
We are sure of the excellence of our products and therefore offer guarantees of 3 to 5 years on most of our sprayers.
The concept of innovation is one of the pillars of Goizpers strategy in developing innovative sprayers that bring in developments and improvements to make the users work easier and maintaining efficiency and efficacy in phytosanitary treatments.
Our developments focus on user experience and the search for solutions in comfort, functionality and safety. Given the high value of phytosanitary products, the choice of sprayer is an investment that must improve the efficacy of the applied products. This sprayer must be selected within the suitable parameters of functionality, efficacy and quality.
Goizper is the only Spanish approved manufacturer and supplier in the international committees commissioned to set the rules and standards for spraying equipment for world organisations such as the FAO, Unicef, UNDP, WHO or ISO/TC23.