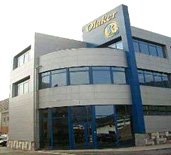 Goizper has its own Technological Centre of Research, Development and Innovation from where value is generated through technological research and efficient and sustainable innovation is made with integral solutions and product improvements.
The team of researchers is formed by a powerful technical team trained and focused on research to produce value and advantages that make a difference in Goizper products.
DESIGN AND TRANSFORMATION OF PLASTIC PARTS
Analysis of the best combinations of geometry and material for each part.
Studies of functionality and manufacturability to study the behaviour of the different parts under environmental conditions and effort.
SPRAYING
Geometry design according to the required spraying parameters.
Definition of the tools needed to make the nozzles. Is therefore equipped with the latest simulation and instrumentation technological developments for designing and studying the behaviour of fluids for specific applications.
In the field of Innovation, researchers have also specialized in developing solutions for:
Specific applications and different environments (cotton, cocoa, coffee, vector control, construction, painting, garden, automotive, etc.)
The pressure regulator.
Development of high-precision nozzles.
All are technological solutions that guarantee the quality of the products and sustainability, rationalising the use of the products to minimise the negative impact of the phytosanitary treatments.